Fruit Flavored Powdered Mix
Replaces Electrolytes Lost in Sweat During Exercise
WHAT DOES ELECTROLYTES DO?
Healthy adults need minerals like potassium, sodium and magnesium. These electrolytes help support muscle function and fluid balance.* Electrolytes are lost when we sweat and can be replenished when you mix ESSENTIAL AMIN.O. ENERGY + ELECTROLYTES powder with at least 10 oz. of water.
BENEFITS:
Supports Performance by Offering Energy*, Focus*, Recovery* and Hydration†
Supports Endurance*
Supports Muscle Recovery*
† When added to at least 10oz of water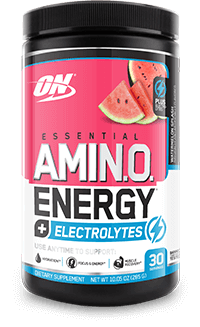 NUTRITIONAL FACTS
FRUIT FUSION

Serving Size

Two

Scoops

(9

g)

Servings Per Container

30

Amount Per Serving

% Daily Value

Calories

10

Total Carbohydrate

2

g

1%*

Amino Blend

5

g

†

Micronized Taurine, Micronized L-Glutamine, Micronized L-Arginine, Micronized L-Leucine, CarnoSyn® Beta-Alanine, Micronized Citrulline, Micronized L-Isoleucine, Micronized L-Valine, Micronized L-Tyrosine, Micronized L-Histidine, Micronized L-Lysine, Micronized L-Phenylalanine, Micronized L-Threonine, Micronized L-Methionine

Energy Blend

160

mg

†

Caffeine (From Green Tea)‡, Green Tea Extract (Camellia Sinensis)(Leaf)(Standardized For EGCG), Green Coffee Extract

* Percent Daily Values are based on a 2,000 calorie diet.

† Daily Value not established.
Other Ingredients:

Malic Acid

, Natural & Artificial Flavors

, Tartaric Acid

, Silicon Dioxide

, Calcium Silicate

, Citric Acid

, Sucralose

, Gum Blend (Cellulose Gum

, Xanthan Gum

, Carrageenan)

, Lecithin

, FD&C Blue #2

, FD&C Red #40

, Inulin.

Allergen Information:

Contains Soy (Lecithin)

‡ Total Caffeine from all sources is equal to 100mg/9g serving.
Mix two scoops of ESSENTIAL AMINO ENERGY in 10-12 oz of cold water.
FOR AN AMINO ACID BOOST: Consume one or more servings first thing in the morning and/or between meals.
FOR PRE-WORKOUT ENERGY: Take 1-3 servings 20-30 minutes before training.
FOR POST-WORKOUT RECOVERY: Take 1-2 servings immediately after training.
Do not exeed more than 5 servings per day.
TIPS: ESSENTIAL AMINO ENERGY contains 50 mg of caffeine per scoop, so do not consume after 5:00 PM if you have difficulty sleeping. ESSENTIAL AMINO ENERGY also contains beta-Alanine and may cause a temporary tingling sensation on your skin. This is normal. With continued use, the intensity of the sensation will decrease or disappear. Also, some people may have a sensitive stomach and will not tolerate green tea extract well on an empty stomach. If this is you, be sure to take with meals.
STICK PACKETS: BOTTLE OF WATER: Take a sip from a full 16.9 oz. bottle of water to make room for the powder. Add one packet of AMIN.O. ENERGY™ and shake bottle to mix well until powder dissolves.
* These statements have not been evaluated by the Food and Drug Administration. This product is not intended to diagnose, treat, cure, or prevent any disease.